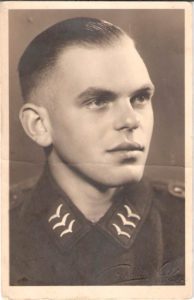 This is my grandfather Paul Georg Wierschke, born May, 21th, 1919 in Schoenwitz / district Falkenberg / Upper Silesia, today's Karców (Poland).
He worked as a gardener at the rose growing company Teschendorff in Cossebaude near Dresden when the war began. Like most young men of his generation he had to become part of the Wehrmacht to "lead the Fuehrer to victory".
Gerhard died at the age of 25.
Some years ago I created a family tree. Gradually, this tree was filled with life – stories, anecdotes, smaller and greater adventures. One page had to be left empty. The field reserved for my grandfather contained just a big question mark.
No one in my family could tell anything about him. My grandmother, Gerhards wife, had passed away years before.
The only vague information I could get was that his military unit had been transferred to Greece. Since that transfer he had been considered as missed.
Through the confusion of the postwar period, emigration, and not least through the challenge to build an existence with to little daughters in the new home country, a search application at the Red Cross was initiated by my grandmother not till 1965.
Today I don't know anymore what moved me to investigate my grandfathers fate such intensive an determined. Maybe it's the fact that his life came to an unhappy end after just 25 years. Or the fact that he never took place in one of our family stories.
Finally I began to investigate, and this is the only thing that matters.