I contacted four institutions in order to get some information:
the 'Deutsche Dienstelle', Berlin
the Red Cross tracing service, Munich
the church tracing service, Passau
the 'Volksbund Deutsche Kriegsgraeberfuersorge', Kassel
In addition I requested information about routes and destinations of German forces in Greece at the 'Forum der Wehrmacht'.
This was followed by a long, very long time of waiting. After a few weeks I got each a confirmation of receipt, including the note that 'investigation will take a long time'.
During the next two years I received reply letters with more or less useful information:
---
---

Gerhard Wierschke, born May 21, 1919 also known as Paul Gerhard, born May 21, 1921, missing since July 01, 1944
We have no information about his fate. We're sorry for that.
---


Gerhard Wierschke, * 21.05.1919 Alt-Driebitz Vorgangs-Nr. 933882

We have registered you as a relative. So we can inform you about the extensive work of the Volksbund in future.
---


Wierschke, Gerhard, geb. 21.05.1919
We thank you for your inquiry. Our investigation produced the following:
Gerhard Wierschke, *21.05.1919 in Hammer, Bezirk Glogau/Schlesien;
Sergeant in II. Battalion Air Force Ranger Regiment 22, 7. Company; also 5./Ranger Regiment 22 (L)
Field post number: 44173 and 50118;
Missing persons picture list Red Cross Tracing Service Munich Volume LM 2. addendum page 337, 2-1;
last own message: May 1944, Greece;
as per message from unit field post number 44173 (not available at DRK Munich):
missed; Sergeant Schroeder with 28 men didn't come back from mission.
Missed since 2 July  1944 Psari, Peloponnese (information Deutsche Dienststelle Berlin).
The search order exists since 1965 at the Red Cross Tracing Service. The first inquiry was sent by the wife Sophie Wierschke.
All previous efforts of the Tracing Service to clarify the fate of Gerhard Wierschke have been unsuccessful. Gerhard Wierschke still belongs to the humans who are missing. The inquiry will be held open until a possible clarification.
---


We inform you that the personal files of your grandfather are not available here. Probably they got lost through war damage.
From different records we can confirm the following:
– Wierschke, Gerhard, geboren am 21.05.1919 in Alt-Driebitz
Identification tag: – 290 – Lw.Bau.Kp. 6
Rank: Sergeant
Units:
as per message from  8 December 1939 Luftwaffen-Bau-Kompanie 6/ IV (motorised)
Area of operations: Sorau, later Liegnitz
– until February 1944 no messages –
as per message from  10 February 1944 5. Kompanie Jäger-Regiment 22 (Air force)
(= field post no. 44 173 B)
Subordination: 11.Feld-Division (Luftwaffe)
Area of operations: Feb. 1944 – July 1944 = Greece
Missed: 02 July 1944 near Psari / Peloponnese
The missing person's report contains the note:
'Kidnapped by gangs, probably assassinated'
We don't know anything about your grandfathers fate.
---
---
Because of the slyghtly martial design I was a little bit prejudiced against the web community 'Forum der Wehrmacht'. Totally baseless, as I should learn. The members possess a broad knowledge, own awesome private archives, and last but not least they call their own an unrestricted helpfulness. The conversation is friendly and objective.
Here I could get some valuable information like these two posts:
From Roland:
…25.06.1944
Beginn des Bandenunternehmen "Adler", als größtes Unternehmen, welches je auf dem Peloponnes durchgeführt wurde, mit etwa 4 000 Soldaten, geplant für einen Zeitraum von 6 – 8 Wochen, zur Säuberung des Parnon-Gebirges und im allgemeinen Raum Sparta – Leonidion – Astros – Tripolis. Das Unternehmen musste auf Grund der Gesamtkriegslage Anfang Juli 1944 bereits abgebrochen werden
(Hermann F.Meyer, Von Wien nach Kalavryta – Die blutige Spur der 117.Jg.Div durch Serbien und Griechenland, Bibliopolis, Möhnesee-Wameln, 2001, S. 402, 407)

03.07.1944
Kurz vor Beendigung des Unternehmens "Adler" wurden am 3.7.44 Teile des II. Bataillons, Lw.JgRgt 22 am Stymfalia-See, unweit von Nemea, von starken Bandenkräften, dem 6.ELAS-Regiment, eingeschlossen und hatte dabei empfindliche Verluste von 18 Toten, 29 Verwundeten und 23 Vermissten.
In der griechischen Nachkriegsliteratur vervielfältigte sich jedoch die Anzahl der deutschen Toten erheblich! (HF. Meyer, 117.Jg, S. 407) …
From Byron:
Hallo Tom,
01-03 Juli 1944: Roland hat das Geschehen richtig beschrieben.
Bei der Durchführung des Unternehmens "Adler" haben die Deutschen im Sommer 1944 versucht die Partisanen auf dem Peloponnes zu vernichten. Psari (bedeutet Fisch), ist ein Bergdorf auf einer Höhe von etwa 750 m liegend in der Nähe der Stymfalia-See in Arkadien, dort wo Herkules die stymphalischen Vögel tötete. Dort hat das Btl.II des 22. Lw.Feldregiments einen Zug der 5. Kp. von 32 Mann gelassen. Diese behandelten die Dorfeinwohner sehr grob und lagerten an der Strasse nach Siouri auf dem Berg Brekos. Der Rest des Bataillons marschierte weiter zu anderen Dörfern des Stymphalia. Der Notar des Dorfes Giorgos Ikonomopoulos (ein Soldat hatte seine Frau vergewaltigt) schickte eine Nachricht zu den Partisanen der Umgebung die am Abend den Zug angriffen. 16 Soldaten fielen, die restlichen 16 wurden gefangen und am nächsten Tag im Nachbarort Skotini exekutiert.Das Bataillon kehrte zurück und fand im Dorf nur 5 Greise, die Bevölkerung war in die Berge geflohen. Psari wurde verbrant, die Greise erschossen.Der deutsche Schriftsteller und mein unvergesslicher Freund Hermann-Frank Mayer hatte im Jahre 1975 als junger Bursche das Dorf Psari besucht und versuchte von einem Bewohner zu erfahren wie die 16 gefangene Soldaten umgebracht wurden. Er erhielt die Antwort: "Warum willst Du die unangenehme Vergangenheit erwecken. Das waren alles böse Sachen. Setz Dich, trink ein Glas Wein mit mir und gehe Deinen guten Weg".
Besuche Arkadien, ist eine wunderschöne Gegend, da wo der Gott Pan und Nymphen hausten.
Fast and uncomplicated I received also a copy of the relevant war diaries page from the Federal Archive in Germany: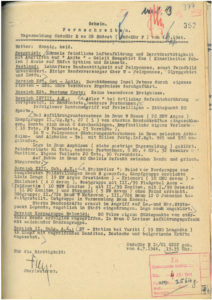 'During reconnaissance mission in W Nemea ( 20 NNW Argos ) Combat squad II./Jg.Rgt. 22 ( L ) surrounded by strong gang forces, could escape to E. Large own losses ( 18 dead, 29 wounded, 23 missed ).'