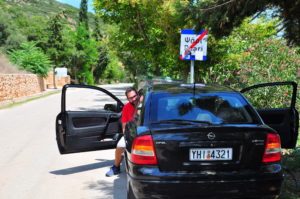 Giorgio, Giannis' oldest son welcomes us at the entrance to Psari. Giorgio, a student at Piraeus University, had done the translation work of our correspondence for his father. He guides us to his grandmothers house, where the others are waiting for us in the shady courtyard. It is an illustrious society:
Giannis and his family, travelled from New York his childhood friend Elsa with her husband Bruce and her daughter Sophia.
The atmosphere is relaxed and friendly. We talk about travelling, politics, Psari, and the planning for the next day. Afterwards a first common meal outside the village, followed by an extended coffee time.
The rest of the day we visit the surrounding area while we enjoy the sometimes rough, sometimes charming character of the argolic landscape. It gets already dark when we get back to Psari. We let the day end in a phantastic mood in a tavern.